New Products
Here you can check our new products of the year.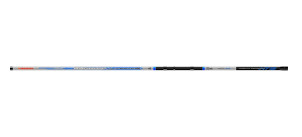 HYDRUS XTS
*Trabucco Catalog 2021 pag.42*
• Telematch rods with perfect parabolic action, suitable for use in both fresh and salt water
• Blanks made from S.H.M.R. High Resistance carbon
• Extremely sensitive tubular tip
• Wrapped S-SiC guides, with sliding guides wrapped on to carbon pipes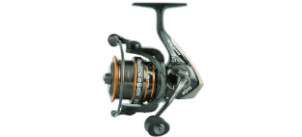 KERES CX
*Trabucco Catalog 2021 pag.146*
• 6 Precise Double-Shielded Stainless Steel Ball Bearings
• Stainless Steel One Way Clutch Instant Anti-Reverse Bearing
• Stainless Steel Main Shaft & Main Gear Shaft
• Ultra Light pure CX Carbon body & rotor
• Micro-Adjusting Front Drag With Stainless Steel And Carbon Textile Drag Washers
• Fully sealed Drag (100% Water & Dust Proof)
• CNC handle, machine cut from a single piece of solid aluminium
• V-shaped aluminium spool
• Large Diameter Aluminium Powerbail, with Anti-Twist Titanium Line Roller
• Anti-twist Titanium line roller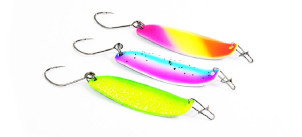 GREIL
*Rapture Catalog 2021 pag.188*
Designed for Area Trout but also good for UL fishing. Ideal for
long range action, swims well at slow and fast speed. Special
design causing oscillation during retrieve and free fall. It is
equipped with two single interchangeable hooks: one barbed,
one barbless (10130 pattern) made from hi-carbon steel with 3D
Cut point. Blister containing 1 spoon.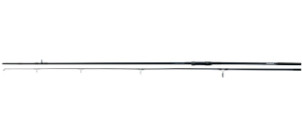 INFINIUM
*Trabucco Catalog 2021 pag.74*
• Reinforcement wrapping at the base of the top section
• DPS graphite screw reel seat with steel and rubber hoods
• Smart Line clip fixed to the right side of the handle
• Super-slim lower rubber grip and metal cap with Trabucco logo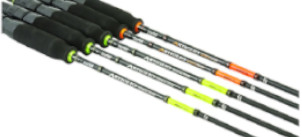 ARTIGLIO
*Rapture catalog 2021 pag.9*
Super Slim blank made from CX-1 carbon, with fast body and spigot joint featuring alignment marks and spare part identification (see above). Regular Slow action designed for spoon and micro hard baits handling. Tubular top section, progressive and ultra-sensitive. Split EVA handle, with nice hybrid cork butt end SiC long leg guides with K profile frame, ideal for braided lines. Light and reliable screw reel seat with finely shaped EVA fore grip. In the fifty centimeters upstream of the reel seat hides the secret of its reactivity, which is immediately revealed with the projection of the smallest lures at relevant distances.